With the 75th Rolex Sydney to Hobart yacht race fast approaching, it's time to ensure your boat is ocean race ready!
Carl Crafoord is currently preparing for his 34th Hobart Race on his Cookson 12 "Sail Exchange" and is happy to share his knowledge on the race and boat preparation. This includes rules and advice on safety gear, storm sails and sail numbers. Plus Bettina shares her catering tips and menu she will be preparing for the big race!
Preparation for the big race is a huge job but it is all worth it on Boxing Day when the gun goes off. Since the 1998 race when 6 sailors tragically died and 55 sailor were rescued, the racing safety rules have become stricter. I suggest you delegate some of the boat preparation jobs amongst your crew, otherwise it can turn into a full time job! As an owner it is worthwhile doing a First Aid Course and the Safety At Sea Course as both are valuable for racing and cruising. I have very dedicated, hands on crew who tirelessly help with working bees on the boat and dedicate weekends to sail testing and training. I feel this makes us a stronger team and gives us a valuable edge. See below some important links that will help you on your journey to the start line.
https://www.sailingresources.org.au/safety/specialregs/
The link above to Australian sailing's special regulations provides the categories that ocean racing requirements are prescribed. These depend on length of the race and what assets are available for rescue, making the yachts more self sufficient as the category number gets lower e.g. Category 0-4 are for offshore races with category 0 being transoceanic and category 1 being the equipment requirements for the Sydney to Hobart yacht race. Major items like Liferafts, epribs, PLB's, pfd's and danbouys, are all the same standard through categories 1 - 3.
Safety Gear
There are many important safety requirements for ocean racing.
Sail Exchange sells safety gear online, such as: life rafts, danbouys, safety lights, Epirbs, knives, tethers and inflatable lifejackets
We have liferafts for hire (less than 30 days), lease (30 days to 12 months) and sale https://www.sailexchange.com.au/personal-safety-equipment/rental-gear/life-rafts-rental.html
We also have pfd's for hire and sale https://www.sailexchange.com.au/personal-safety-equipment/rental-gear/life-jacket-inflatable-rental.html
We maintain our own safety gear on our Cookson 12 "Sail Exchange" and in doing so we regularly rinse it all out after racing and store our gear in our factory to keep it dry and away from the corrosive salt water environment.

Storm Sails
Sailing special regulations requires that a "storm jib of area not greater than 5% x (height of the foretriangle (I) 2 , and luff maximum length 65% height of the foretriangle."For both category 1 and 2, storm jibs are required.
Storm sails like our heavy weather jib (J4) which meets the requirements in sail area;
A heavy-weather jib (or heavy-weather sail in a yacht with no forestay) of area not greater than 13.5% x (height of the foretriangle (I) 2), and without reef points.
The J4 is always carried on board plus we have a (J5) which allows us to have a step down prior to changing to the storm jib, the J5 luff length is 50% of the forestay length and the sail area is close enough to being halfway between the J4 and Storm Jib.
We also carry a storm trysail with slides that can feed into the mast with mainsail dropped and lashed to the boom, the new rules for Hobart allow a mainsail which can reef to 50% of the main luff length or hoist to displace carrying a storm trysail however the area at the 3rd reef and at 50% of the luff length is still more than you need in 50 knots so we like the trysail as a back up and smaller area.
Sail Numbers
Sails numbers are required on Mains, Trysails and all Genoas (both sides of sail) and Spinnakers one one side. Sail Exchange stocks sail numbers in various sizes and colours.
Sail Bags
Are you in need of spare sail bags, or maybe your old turtle bag zip has seized? Check out our wide range of NEW and USED sail bags. We stock round bags, sausage bags, zip turtle bags as well as spinnaker box bags. Don't settle for a broken zip, grab a bargain now!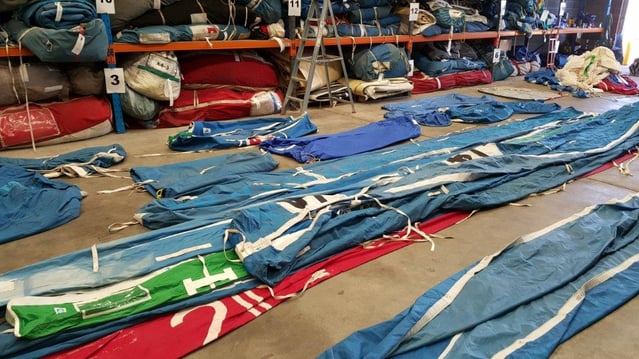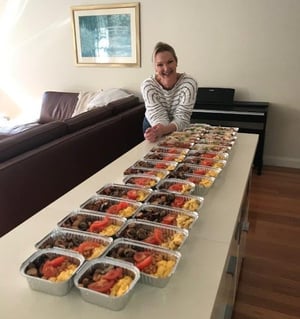 Catering for Ocean Racing
Bettina shares with us the "Sail Exchange" menu selection and serving suggestions for long distance races.
I have been preparing crew meal for the past 5 years and have experimented with many recipes. After each race I gain valuable knowledge from the crew's feedback and adjust the menu accordingly for the next race. The biggest hurdle is the size of the icebox/food storage space on board. I have trialled 2 options of storing and reheating meals on board with the 2nd option being the crews preferred style:
OPTION 1- Originally I cooked a big pot of food and decanter into 1-2 large plastic zip lock bags and froze. The crew would then heat up in a large pot on the oven top and serve with a ladle into bowls. This was a very messy and sometimes dangerous process as the pot can be hazardous when hot and difficult to serve in rough seas.
OPTION 2- Meals are placed in foil containers (similar to containers airlines use). The lids are labelled eg: Dinner Day 1 and are either frozen or unfrozen depending on the length of the race. The containers are then heated up in the oven for 20-40 mins. This makes portion control easier and far less spillage/mess. There is no doubt that the crew prefer this option as it easy to serve. When the meal is finished you break the wooden fork/spoon in half (place in the container) and fold the foil container down into a compact flat pack that can be place in a jacket pocket until you go off watch and can place in the bin.
NOTE- you can purchase different sized foil containers from any catering supplier (much cheaper than purchasing from your local supermarket) You will need to test out how many containers will fit in your oven per rack before you purchase the containers in bulk. The foil containers are very hot when served (i suggest latex gloves are used) the containers are then placed in a cardboard bowls (see photo below).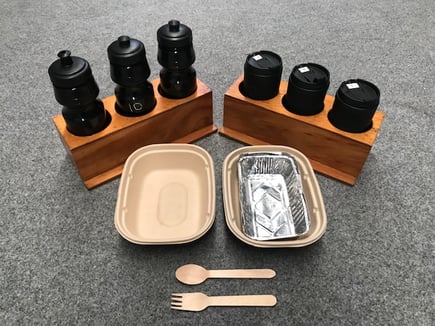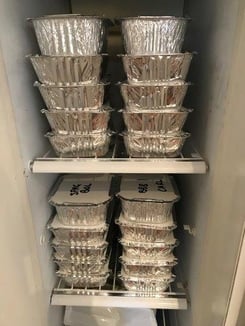 RE-HYDRATION- it is mandatory to have 2.5 ltrs of fresh water per crew per 100 nautical miles of course to be sailed on board (plus 10 ltrs of emergency water). We keep it very simple by providing tea, coffee and protein drinks. The crew bring their own reusable water bottles and we provide go cups for hot drinks. Electrolyte sachets are also handy to add to water bottles.
SNACKS are very important and often give the crew energy (and comfort) when on the rail for hours. Single portions of nuts, yogurts, muesli bars, jelly's and fruit are always on the menu with variations depending on crew dietary needs.
Click HERE to see my menu for full details of the Sydney to Hobart crew meals broken down into each day.
Happy sailing from The Sail Exchange!