Upgrade your boat gear at a fraction of the cost by using recovered lines that have been professionally refurbished
Reducing landfill by recycling/re-purposing is the way of the future. Sail Exchange have successfully been selling second hand sails and equipment globally for the past 3 years and have now partnered with Wet Tech Rigging offering the budget conscious sailors an alternative.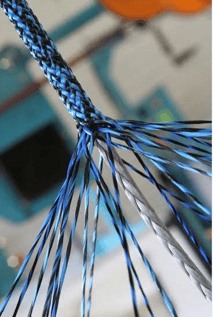 Did you know that rope that looks frayed or damaged can be recovered and saved from landfill. For many modern line constructions, much of the rope's strength is provided by the core. The casing (outer cover) protects the core and sometimes both the casting and the core will need refurbishing by an expert to give them a new lease in life.
Why choose recycled ropes -

Option of re-covering lines to give quality used cores a new lease on life
Option to upgrade to spliced finishes for un-spliced second hand stock
If boat owners prefer to purchase new rope, they can be remunerated for their used running rigging
Whilst the environmental benefits of re-purposing and recycling is well-known, the program also aims to give lower budget customers access to
higher strength or lower stretch core materials that may otherwise be
outside their budget - improving performance or adding safety factor to their running rigging at a reduced price. With the ability to consign rigging in the same fashion as the proven Sail Exchange model, boat owners can also receive remuneration for pre-used lines that may no longer suit their needs, but may be perfect for an alternative application following refurbishment.

The use of rope on boats has been common place for hundreds, if not thousands of years. Advancements in modern materials means there are seemingly endless combinations of core and cover - not to mention spliced finishes, localised anti-chafe, and rope coatings available to suit both cruising and racing applications.
Any Questions?

To obtain a valuation for second hand lines, or discuss how we can adapt lines in our database to suit a particular application please don't hesitate to contact us directly.
Quick Links
Learn how to do an easy lock-splice here: Splicing tutorial